January 5th, 2016
2015 was a big year at IIHR. In case you missed it …
Launch of CLE4R to help improve air quality in Dubuque, Iowa
Clean Air in the River Valley — Environmental Education, Technology, Partnerships, and Planning
Under CLE4R, the City of Dubuque and its partners will be using technology and education to improve air quality, which makes for healthier living and can attract businesses to the area. CLE4R is funded by the U.S. Environmental Protection Agency's Environmental Education Program. The project director is IIHR Research Engineer Charles Stanier of the University of Iowa.
Jerry Schnoor, others represent UI at Paris Climate Conference
COP 21 | Iowa Now – University of Iowa
Dec 2, 2015 … University of Iowa students and faculty are attending the global climate talks this month in Paris. Four students from three colleges and a faculty …
IFIS, meet IWQIS — Iowa Water Quality Information System now available
Iowa Water Quality Information System | IWQIS
Welcome to the Iowa Water Quality Information system! This tool allows access to real-time water-quality information such as nitrate, chlorophyll, and dissolved …
Innovative cookstove insert gets a lot of attention
A $1 insert for cooking fires cuts wood use and soot pollution by …
Nov 11, 2015 … A steel wedge grate placed in a traditional Indian cook fire can increase the … Table showing lab test results for the cookstove insert … This is a story of how mushroom sales are solving a sanitation problem in rural Bolivia.
Iowa Flood Center on Twitter, @IFIS_Warnings in time for December flooding
Iowa Flood Center@IowaFloodCenter
Wet December Weather Causing Flooding | whotv.com
Dec 14, 2015 … DES MOINES, Iowa — Heavy December rain is causing some flooding problems in the Des Moines metro. The rainfall was constant Sunday and didn't … Winter Rain Forcing 'Jolly Holiday Lights' to Close for Season · News …
Ancient sea scorpion discovered by Iowa Geological Survey team draws National Geographic to Decorah, Iowa
Replica of ancient sea scorpion in Decorah
It's the first time the public has been able to see the life-size replica of the giant six-foot sea scorpion. "We had about a month and a half to work on it, with consultations with James Lamsdell, who is the paleontologists we were able to to figure out how this creature might have looked from 450-million years ago," said the artist Dennis Wilson.
Researchers Find Gian Fossilized Sea Scorpion – IIHR …
Sep 2, 2015 … What could a fossilized sea scorpion be doing in northeast Iowa? … IGS Researcher Paul (Huaibao) Liu has been leading a team to uncover …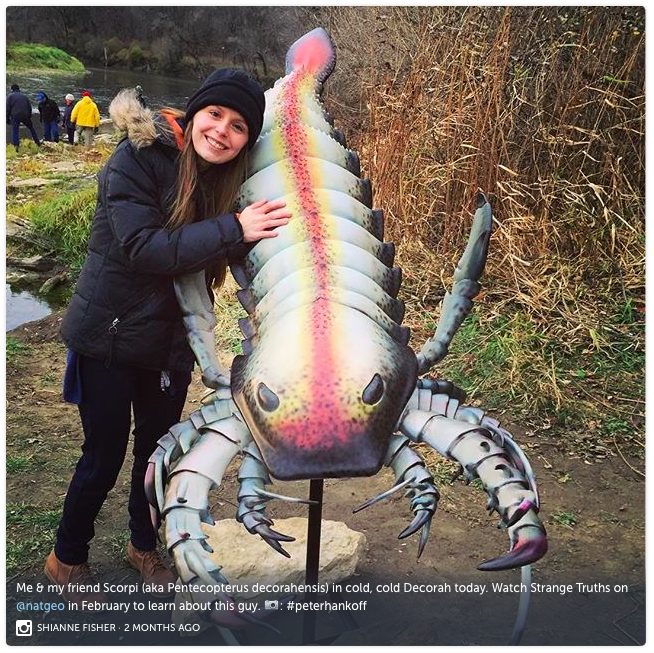 A smart, unexpected series that explores, illuminates, and documents the hard to believe, the mind boggling, and occasionally insane secret history of everything. From bizarre science to unnatural nature, very real conspiracies and too-far-out explorations, nothing is left but the strange truths of it all.\
Fifth annual Iowa riverbank clean-up a success
A Chilly River Clean-up – IIHR-Hydroscience & Engineering …
Oct 30, 2015 … Sponsors of the Great Annual Iowa Riverwalk Clean-up were IIHR— Hydroscience & Engineering, the City of Iowa City, UI Facilities …
Iowa Flood Center featured on #BTNLiveBIG
Corn Monument returns to campus
It's Back! An Iowa Tradition Lives On – IIHR-Hydroscience …
Oct 19, 2015 … Engineering students at the University of Iowa have brought back a beloved tradition (with a little help from their faculty advisors and support …
Iowa Flood Center joins UI Mobile Museum at the Iowa State Fair
IIHR, Iowa Flood Center crucial partners with multiple communities
LACMRERS hosts IML-CZO conference
Midwest researchers come together for research project | Iowa …
Jul 30, 2015 … Midwest researchers come together for research project … http:// iowaenvironmentalfocus.org/2015/07/30/midwest-researchers-come-together- …
Ship hydro team partners with US Navy Research, US DOE on multiple projects
Sea Potential's 1:50-scale wave-energy converter (WEC) device, tested at @engr_at_iowa @IIHRUIowa #WaveEnergyPrize pic.twitter.com/N8onsjHkNF
— Wave Energy Prize (@WaveEnergyPrize) December 16, 2015
More water-quality sensors installed across the state
Other news from 2015:
Carrica, Buchholz Receive Major Navy Grant
Pablo Carrica, professor of mechanical and industrial engineering and faculty research engineer at IIHR—Hydroscience & Engineering, and James Buchholz, associate professor of mechanical and industrial engineering and associate faculty research engineer at IIHR, have received a grant from U.S. Department of Defense, Department of the Navy, for "Engaging Undergraduates and High School Students in Naval Science & Technology."
President Mason is now speaking about @IIHRUIowa and the UI's status as a national expert in flood science. pic.twitter.com/5NblHMajpu
— U Iowa Alumni Assc. (@uIowaAlumni) March 9, 2015
https://www.iihr.uiowa.edu/wp-content/uploads/2020/06/2019_10_01-Iowa-River-Drone-Shots-jatorner-0135-scaled-e1591040259394.jpg
1125
1500
Margot Dick
https://www.iihr.uiowa.edu/wp-content/uploads/2020/06/IIHR-Official-Vector-logo-01-300x134.png
Margot Dick
2016-01-05 10:00:00
2020-06-11 11:17:49
IIHR's Year In Review