Downtown Banners Feature IIHR Researchers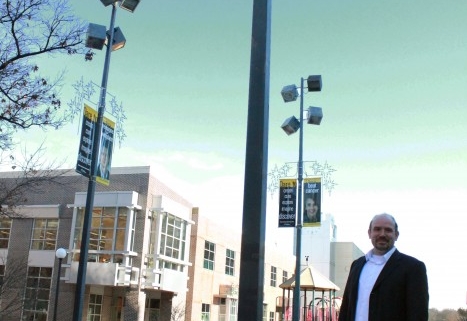 January 21st, 2016
In Iowa, it often seems as though when it rains, it floods.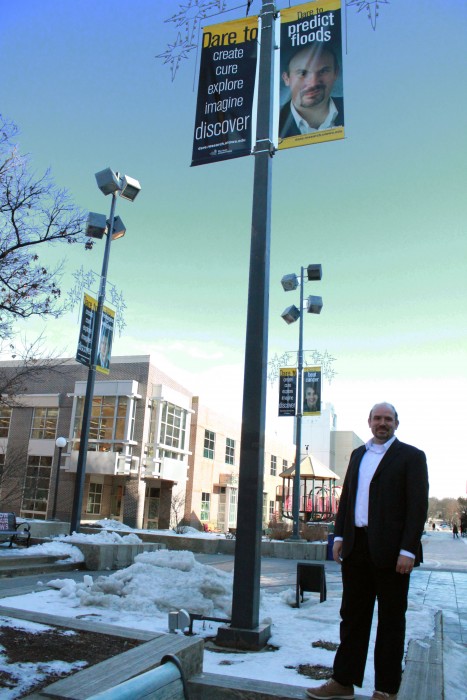 One research engineer at IIHR—Hydroscience & Engineering is working to discover what kind of hydrometeorological events are linked to flooding; another monitors streamflow in the state's many rivers and streams. Their research, along with the "stories" of more than 40 other individuals across campus, is featured in the new Dare to Discover banner series, organized by the UI Office of the Vice President for Research and Economic Development (OVPR&ED).
"How do you compete with beating cancer?" asked Gabrielle Villarini with a smile. His banner, "Dare to Predict Floods," hangs on the Iowa City Pedestrian Mall near one devoted to cancer research. Villarini, an assistant professor of civil and environmental engineering, conducts research on flooding, which, as the most dangerous of all natural disasters, has its own life and death ramifications. One application of his work is flood prediction. His research on extreme weather events—precipitation patterns, high and low temperatures, and tropical and extratropical storms—continues to help him determine why and when extreme events, such as flooding, may occur.
IIHR Project Engineer Dan Ceynar dares to monitor Iowa's waterways.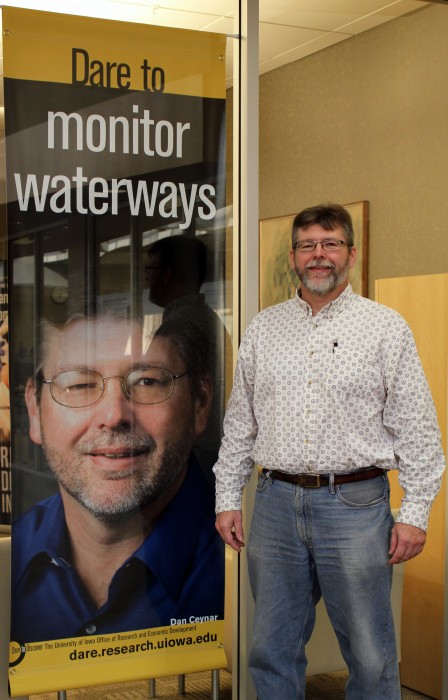 Since 2010, IIHR Project Engineer Dan Ceynar has led an effort to install more than 220 stream-stage sensors on bridges across Iowa to monitor stream flow and its response to extreme precipitation events. The sensors are a key component of the Iowa Flood Center's Iowa Flood Information System (IFIS), an online Google-maps based tool that allows users to view real-time water levels in their area.
Ceynar squirmed as he stood next to a three-foot image of his face. "I'm kind of shy about these things," he said. "I didn't know it would be so big." His banner, "Dare to Monitor Waterways," hangs in the OVPR&ED office in the University Capitol Center.
Villarini has plans for his banner when the campaign is done. "If they let me keep it when this is all over, I think I'll put it in my kids' bedroom," he joked
Learn more about the Dare to Discover banner project at dare.research.uiowa.edu/.
https://www.iihr.uiowa.edu/wp-content/uploads/2020/06/Gabrielle-Banners-1.jpg
700
467
Margot Dick
https://www.iihr.uiowa.edu/wp-content/uploads/2023/02/IIHR—Hydroscience-and-Engineering-LockupStacked-RGB-300x183.jpg
Margot Dick
2016-01-21 10:53:45
2020-06-11 11:16:47
Downtown Banners Feature IIHR Researchers